C-series displays
NEC introduces 4 new sizes of screens so everyone can find a screen that perfectly fits his/her needs. The screens are available in 65 inch, 75 inch, 86 inch and 98 inch and they share the same impressive specifications and options. These displays guarantee for example: a razor-sharp image thanks to its Ultra HD resolution with a brightness of 350 cd/m² (up to 400 cd/m² at 65 inch) and a reflective screen surface on top of that for optimal visibility in intensively illuminated rooms. Additionally, the screen also fits in every environment thanks to its stylish and smooth design. 
Specifications
The devices feature a couple extra's that allow the product to operate optimally for as long as possible. The screens have for example: integrated fans that are connected to sensors to maintain the quality. The C-series screens also feature the newest interfaces (HDMI 2.0 x3 and DisplayPort 1.2 x2/daisy chain option) which will take care of the "future-proof" aspect of your investment. Lastly, the screens have access to options for expansion like Open Pluggable Specification (OPS) and Raspberry Pi module for direct connection in the display. These options for expansion allow for an even more future-proof device with a guarantee of 3 years.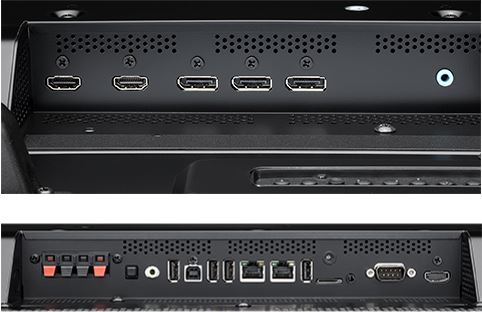 Finally, the screens are equipped with a Spectraview system which among other things, allows for control over color, intensity, gamma that will allow you to showcase your images as optimally as possible. The display itself can also be turned around which gives more freedom when it comes to presentations. Besides that there is also the option to play audio or videos thanks to the integrated mediaplayer.  In conclusion, the NEC screens have all the necessary qualities to support presentations and even to be active 24/7 in retail. 
Contact us for additional information, prices - info@playbiz.be